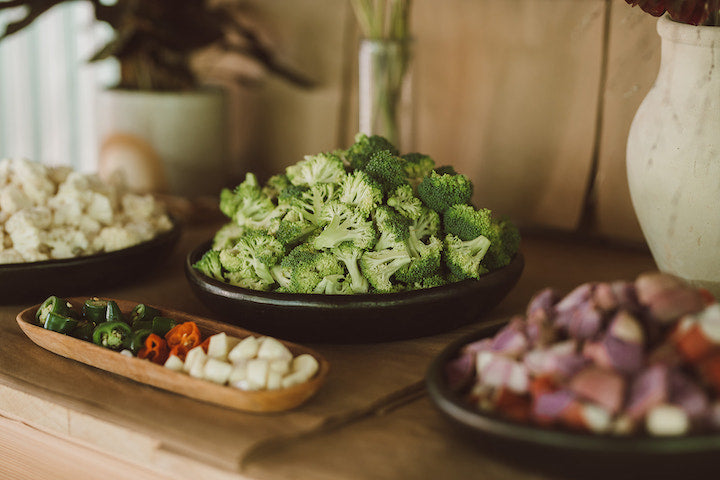 With wild fermented foods offering 100s if not 1000s of wild species of probiotics versus the 10-20 species that are offered with expensive purchased probiotics in a jar, it behooves all of us to make wild fermenting a part of our daily life and eating routine. Wild fermenting is as easy as loading your vessel, keeping things submerged in a saline brine, and keeping an eye on your microbes while they work their magic. Here are some ideas for fermenting all year: 
SPRING:
dandelions, nettles, ramps, lemons, eggs, asparagus, fiddlehead, garlic scapes, radish, artichoke, morels, pea pods, grape leaves, limes
SUMMER:
celery, mushrooms, cucumbers, salsa, peppers, corn, fennel, eggplant, onion, cauliflower, broccoli, green beans, beans, basil, watermelon rinds, spinach, swiss chard, herbs, bell peppers
FALL:
ginger, turmeric, garlic, mushrooms, apples, carrots, parsnip, turnip, rutabaga, cauliflower, broccoli, onion, green beans, shallots, chilis, arugula, squash, tomatillo, celery, radish, cabbage, beets, tomatoes, green tomatoes, hot peppers, for 3 weeks in September: green olives
WINTER: horseradish, cabbage, beets, mustard, limes, lemons, mustard, garlic
Tips from Revolution Fermentation: Add grated carrots or apple slices to your jar when fermenting cabbage! Experiment by adding a slice of orange to sweeten your carrot ferment. Add a slice of beet to make your cauliflower ferment a pretty pink or use purple cauliflower!
Try adding your wild fermented foods to soups, sandwiches, meat, stew, hamburgers, bowls of rice or other salads or just straight from the jar!
To help you add the numerous health benefits of wild fermentation to your healthy home routine we created a Fermenting Fun digital class with lifetime 24/7 access!